Travel Story, scuba diving in Sulawesi Indonesia in Manado, Bunaken, Bangka and Lembeh Strait
Proceed immediately to the pictures of the scuba diving in Sulawesi Manado in Indonesia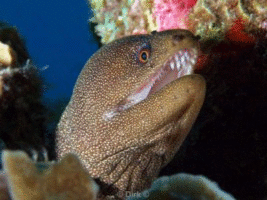 Browse hundreds of pictures - Photos of scuba diving in Sulawesi Indonesia in the dive areas Manado, Bunaken, Bangka and Lembeh Strait.
Divers who are going scuba diving in Sulawesi, Manado, Bunaken, Bangka and Lembeh Strait, Indonesia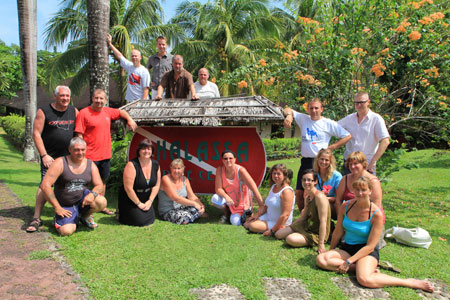 Swa, Chantal, Liniane, Godelieve, Patsy, Anna, Sandra, Karl, Dirk, Monika, Hedwige, Yvan, Philippe, Hugo, Eddy, Jean Paul and Rudi
Where in Indonesia do you find Sulawesi Manado?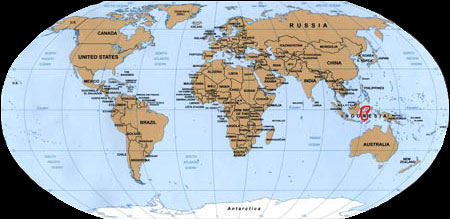 General Information on Sulawesi Manado Indonesia

Sulawesi is one of the larger islands of Indonesia. It's the 11th largest island in the world, with a surface area of 174.600 km2. The island has around 15 million inhabitants and is divided into six provinces.

Sulawesi is isolated from the rest of the world and has developed its own flora and fauna. The animal life is very different, but the flora is less unique. Here you'll find the following indigenous animals: Anoa (dwarf buffalo), babi Rusa (a kind of wild boar), black macaques, Tarsius monkeys, couscous, red knobbed, rhinoceros Maleo birds, birds, etc.

There are two seasons. The dry and wet season. The wet season lasts from November to April, has a north-west wind, cooler air, solid rain and occasionally a rough sea. From May to October the wind comes from the south-west and is a lot dryer. Because Sulawesi, Manado, Bunaken, Bangka and Lembeh Strait are located relatively close to the equator, thee hardly ever are hurricanes and cyclones.

Sulawesi, Manado, Bunaken, Bangka and Lembeh Strait, have a 7-hour time difference in addition to Belgium (in winter). If you want to keep your dive log correctly, you may need to adjust the extra hours in your settings of your dive computer and camera.


Proceed immediately to the information of the scuba diving, diving in Sulawesi, Manado, Bunaken, Bangka and Lembeh Strait in Indonesia



Dive Travel Report Sulawesi, Manado, Bunaken, Bangka and Lembeh Strait in Indonesia

Thursday 27 October 2011

We leave home around 21.00pm, direction Novotel in Schiphol. Here we arrive around 23.00pm. After some confusion about the booking, we check in and search for company from the rest of the group. We drink a final nightcap in the bar and call it a night.


Friday 28 October 2011

At 6.50am our alarms go of, we take a long shower and drag our suitcases back to the lobby where the shuttle to the airport picks us up at 8.10am. Half an hour later, after a few stops at the other hotels, we get disposed at the departure hall of Schiphol Airport. At check-in, we find out that due to our group ticket, couples weren't considered and that our group of 17 people, now have been allocated a random place on the plane. We start puzzling ourselves and try to create the best group composition. We take off promptly at 11.15am on and on board get told the flight will take approximately 12 and a half hours. However, we don't have to get bored, because Singapore Airlines is known for its wide range of entertainment and excellent service. During the flight we get well fed, and offered more than enough drinks (water, soft drinks, beer, wine, but also Cointreau, Baileys, Amaretto, cognac, etc.). The aircraft seats are also quite comfortable and offer plenty of room to move. This means we don't have to sit still in the same cramped position, the whole trip. After a few hours, most people get a little tired and we enjoy a few hours of sleep.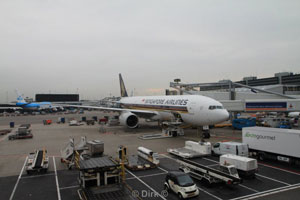 Saturday 29 October 2011

At 5.45am local time we land in Singapore. Our next flight to Manado - Sulawesi doesn't depart until 9.25am, so we try to kill our time by checking out the shops. Some of our group decide to freshen up instead and take a shower in one of the lobbies. With a slight delay, we take off at 9.50 towards Manado. The flight is operated by Silkair, a subsidiary of Singapore Airlines which provides the shorter flights within South-east Asia. The aircraft isn't as big, the animation limited to a few common screens, but the service is still excellent. After approximately 3 hours, we land around 13.00pm in Manado. First, we need to line up at border control for over an hour and pay $25 US to enter Indonesia. After travelling for over 20 hours, this waiting game works on everyone's nerves. Fortunately, the buses that bring us to the hotel are ready and waiting for us at the exit. During the 40-minute drive to the hotel we get our first impressions of Sulawesi. The nature is very green and lush, with here and there small cottages that pop out in between. Arrived at hotel Santika we are warmly welcomed and are offered a refreshing drink. After the check-in everyone walks tired as, to their room and freshens up a bit. Where for most of us a less favourable surprise awaits: the rooms and the sanitary facilities are extremely decrepit, worn out and poorly maintained, one of the bathrooms is overflown, some toilets don't operate properly, etc. Within a relatively short time the reception will therefore receive a rain of complaints. Our room isn't far as bad as the others and the 'damage'; is reasonable: the space isn't super clean, we miss a set of towels and we have two cockroaches we can keep as 'pets'. We also go the reception to let them know about our shortcomings, where everyone immediately and possible to the extent gets served with a smile. Afterwards, the unpacking can start and we search for the diving school Thalassa to collect all the information about the dives of the coming week. We get BBQ served for dinner: complete fish, scampis, crab legs, squid, sausages, etc. Nice, but it's a long wait before we get our food. After a long and tiring journey, everyone goes to bed early as possible, in order to process the jet lag.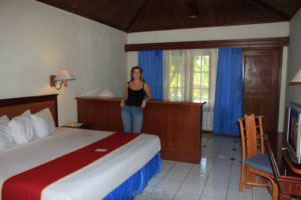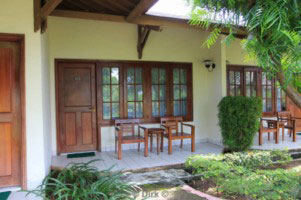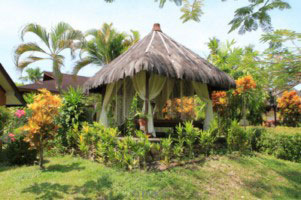 Sunday 30 October 2011

Our first day of diving is at the National Park Bunaken and include dive sites Lekuan 3 and Muka Kampung.

The three non-divers come along on board to snorkel and swim. The tropical sun burns heavily on our shoulders, which immediately causes a few victims with burned ridges and bottoms as a result. After the first 2 dives, we return to the boat and go back to the dive club. Here we go for an easy, but delicious lunch. We are now also told that snorkelling will be charged at 21 US dollars, while we made an agreement for 10 US dollar since we brought our own material with us and only needed to rent the fins. The temporary responsible needs to authenticate with Simone, the Dutch Dive Director of the diving school, and tells us to let us know the correct price as soon as possible. In the meantime, we can keep snorkelling for 10 US dollars.

The third and last dive of the day we go to Bunaken where Qabet point serves as our dive site.

At 19.00pm the group gets together at the bar of the hotel. We have an aperitif and enjoy the tasty local cuisine.


Monday 31 October 2011

Diving in the National Park Bunaken with dive sites: Barracuda point, Tangjun Kopi and Lekuan 1.

During our boat trip to the island of Bunaken a few dolphins swim with us along the side of the ship. A few of them make a 'jump for joy'. On board as well, everyone's enthusiastic about this spectacle and as we're all standing on the same side, the boast nearly tilts. The snorkelling in this region is nice but the second snorkel session gets broken off very quickly as there are several small jellyfish. A shame! Back at the hotel some of us go for a quick refreshing dip in the swimming pool and at 19.00pm we all meet at the bar again. This time, the evening buffet consists mainly out of Indonesian dishes which are quite 'spicy'. A few of the hotel staff start to 'jam' and we get played hits from the '60ties and '70ties. Some songs aren't even sung that bad, other sounds incongruous and are painful for the ears.


Tuesday 1 November 2011

Diving in Bangka including dive sites Shaung point, Machiko point and Mokotamba.

Just before departure we get told that snorkelling now costs 18 US dollars per turn. We find this a rip off and decide to no longer go snorkelling. It's takes approximately 2 hours of sailing to Bangka. For diving in Bangka we had to pay the standard extra price: 20 US dollars per diver. During the sailing trip from Manado to Bangka we get to admire the highest point of Sulawesi. What struck me most was the extreme amount of waste in the water, not only of natural origin. Before the divers jump in the water for the second time, the 3 non-divers get dropped off on a secluded idyllic beach, that looks exactly like a picture-perfect Bounty-island-advertisement. When picking up the three, we therefore make time for the necessary photo shoots. After the third dive in Bangka, it takes another 2 hours to return to our home base and is it pitch black when we arrive at the hotel. Another nice buffet, with a variety of delicious fish awaits us.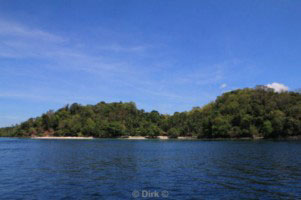 Wednesday 2 November 2011

The divers go muck diving towards Lembeh Strait. From the dive centre Thalassa this takes approximately 2 hours by car and an additional cost of 25 US dollars. In the port of Lembeh Strait is a boat. Here we can, just before the departure, admire the fishermen who just caught their tunas. The Tunas are massive and up to 1.8m in size each. It's a 30-minute sail to reach the first dive site in Lembeh Strait. In the meantime, we can't get enough of the surrounding green landscape.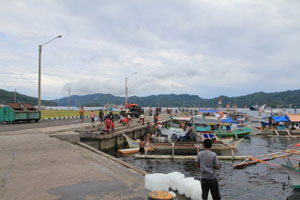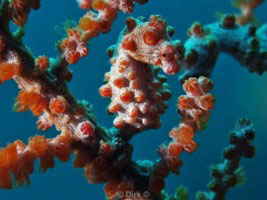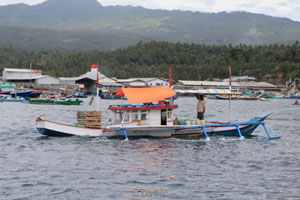 We muck dive at the following dive sites in Lembeh Strait: Scat retreat, Idunas point and Jahir. The muck dives in Lembeh Strait are the trip more than worth the price. During this muck diving, luck must be on your side. The weather can cause a much poorer visibility under water (certainly with muck diving). Muck diving means diving on sandy soils. On sandy soils the sight during the dive is less than when diving on coral, hard soils or drop offs (unless there's a lot of plankton coming up). This also means we've get to deal with a great amount of strange critters that result in some great shots.

The non-divers spend this morning lazing at the swimming pool. After lunch, we order a taxi via reception (note: waiting time is 30 to 45 minutes) which enables us to visit Manado city. After a spectacular drive of 3 quarters (50,000 to 60.000 Rupiah) on which we race across stray dogs, cows and pedestrian, tailgating and drive mirror to mirror with the other vehicles, we get dropped of safely at the 'Mega Shopping Mall'. This shopping centre was build a few years ago and looks surprisingly western. On offer are especially clothing, shoes and handbags, but you must fall for the high degree of bling-bling, because Asians apparently love silver and gold accents and aaaaaaaaaaaa lot of glitter. Next to taste, most sizes unfortunately don't meet our western standards. The sizes are rather limited: small, medium and very occasionally a large. If we ask the staff if they also have larger sizes (XL) in stock, they look at us as if we're aliens. We're looked at as if we're the only white people in this shopping centre and perhaps also in the whole of the city. As we haven't seen any other tourist, during our entire stay, except for in our hotel. We are continuously being stared at, people don't know how they should react to our presence and smile at us very awkwardly, children are watching us with a startled look as if we're about to eat them at any given moment. Even for us it's initially strange, but after a while we get used to it, walk on and wave at them as if we're the Pope. People who have the courage to speak in English ask if they can take a photo with us. Of course we're a great victim and now probably hang on many walls to show off or as a sort of trophy ?????? Around 17.00pm our taxi picks us up and brings us back to our hotel, we go for a quick refreshing dip in the swimming pool and conclude this 'tiring' day with a BBQ.


Thursday 3 November 2011

Diving in the National Park Bunaken including dive sites: Alung Banua Raymonds point, and Celah Celah.

We have lunch on Bunaken Island and subsequently walk towards the local souvenir market, where most of us start looking for the classic gifts for the home front: T-shirts, sarongs, refrigerator magnets, bracelets, necklaces, etc. Unfortunately, they don't have XL sizes here either, which results in some coming back, empty handed. After the third dive on Bunaken we sail back to the hotel and see the formations of some dark stormy clouds, hear some thunder, but fortunately, the thunderstorms fade away. Around 16.30pm we gather at the pool bar to celebrate an anniversary of two of our divers. For his 500th dive Karl has to swallow a full glass of Bacardi cola via his snorkel and for his 700th dive, Dirk must do the same and on top of that neck a pint ?????? Afterwards, both divers get a t-shirt of the diving school on which everyone signed his or her name to celebrate.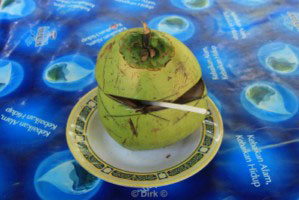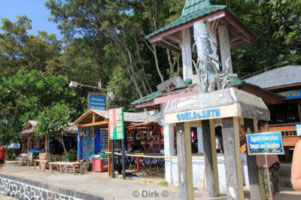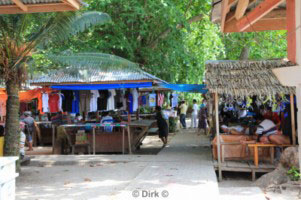 Friday 4 November 2011

Since today is a day of rest and nobody is going to diving, everyone sleeps in and the morning is like a stretched long breakfast. Subsequently everyone searches for a spot at the swimming pool, to cool down from the burning sun. Some people decide make this their home for today and turn into real 'molluscs'. People laze, read, sleep, snooze,... and enjoy a great lazy day.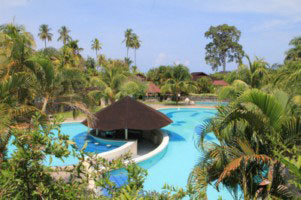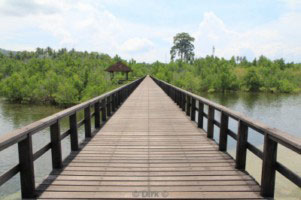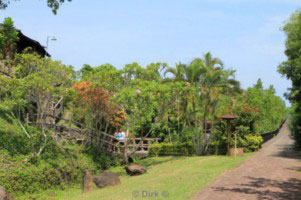 Saturday 5 November 2011

Today a part of the group leaves to go back home and the people that stay don't have any dives planned. We gather in front of the diving school for the obligatory group's photo in the morning and around 10.45am we wave our dive chums goodbye and wish them a safe return flight. Since there's a conference at our hotel this weekend, there's a lot of noise and disturbance. The management therefore allows us to use the private swimming pool of the presidential suite. A nice gesture, we obviously can't say no to and accept gratefully. At 16.30am we take the free shuttle bus from the hotel to Manado. Again, in search for some XL garments, but unfortunately, we must accept that larger sizes really are a rarity. In the shopping centre, there's a very nice and well-kept bakery. Here we find a delicious muffin and chocolate cake. We buy these so we can eat away our frustrations! After dinner (BBQ again) we opt for a nightcap at the bar and search for our beds at around 23.00pm. Unfortunately, our bungalow is right next to 'the big tree restaurant' where the congress guests attend a comprehensive and particularly loud karaoke evening. They keep us up to 1.30pm with their caterwaul??????


Sunday 6 November 2011

Diving in the National Park Bunaken Siladen including the following dive sites: Selatan and Sachiko point.

Since diving today takes place from a smaller boat, the non-divers stay at the hotel. There are only 2 dives on Bunaken planned, so we can relax at the pool afterwards. I made an appointment at 15.30pm for an Essence or Earth massage (30 USD for 60 min.). First you take a foot bath (including flowers in the water) and then the foot reflexology gets applied. The staff kneads firmly and I soon find out there's a lot of tension in my body. Thereafter you take place on the massage table and all parts of the body get seriously treated. The massage ladies feel the largest blockades and obstacles straight away and try to rub these away with great force and patience. The moment you're getting tackled, everything can feel quite painful, but later you really feel a lighting of all muscle tension, that has built up through the busy work year. We end the day traditionally with an aperitif and dinner.


Monday 7 November 2011

When we get up and go for breakfast, rain pours down. This exactly on the day we've planned the Mina Hase Highland tour, great!????? Our guide picks us up at the hotel at 8.00am and we start our tour to the major 'sights' of this northern province. The first photo stop is at a giant white Christ Statue that overlooks the city of Manado. Just a few meters away from it, they started building a mini Big Ben. The link between these two buildings is not at all clear to us, but it's a funny eye-catcher. Our next stop is the traditional market in Tomohon which in any case is not suitable for the squeamish or delicate stomachs. We see stripped and blackened dogs with in addition a cage with live specimens that sit there, waiting in fate. Complete pigs get boned, the head, feet and viscera are thrown on a bloody pile to get measured. As a local specialty you can buy snake, rat or detoxified bat. In the meantime, an unbearable smell of blood, waste and burned meat penetrates the nose. Some of the things that we see really are disgusting and we hope from the bottom of our hearts (and stomachs) that the hotel doesn't purchase their groceries here. After this 'spectacle' we need a short break and drive to Lake Linow that, depending on the light changes colour. Unfortunately, it's still raining little showers, and therefore we cannot see the colour gradations. In the surroundings, there's a very penetrating odour that comes from the sulphur in the lake and substrate. At this place, we have a tea and wee-break. Then we go for a brief stopover in a village where traditional wooden houses are built. The price isn't that bad; for 48 million rupiahs (approximately EUR 4000) you can buy one of these beautiful shelters. The next stop is a village known for its many potters. We get a demonstration of their craft skills, but in the meantime, we can also have a peek at their neighbours to witness the daily life on Sulawesi. Then we drive to the Tondano freshwater lake, where fish are farmed and a kind of water lilies are grown. On the edge of this lake are several restaurants and we therefore stop here for lunch. The meal consists of two types of fish, corn biscuits, spicy vegetables and a kind of fish biscuit. Very tasty but the garlic that was applied richly, is for some a bit much on the stomach! In the meantime, it fortunately stopped raining and we continue our tour through the green landscapes. We drive along the various flat rice fields and agricultural where different types of vegetables are grown. On the go we spot a kind of falcon. Which we, with a little help from the telephoto lens can capture perfectly on the sensitive plate. Our last stop of the day is a Buddhist complex which also touches a lot of Chinese characteristics. The domain consists of various Buddha statues and the brightly coloured temples are richly decorated with a lot of bling-bling. After the necessary photos have been taken, we return to the hotel, where we arrive around 18.15pm.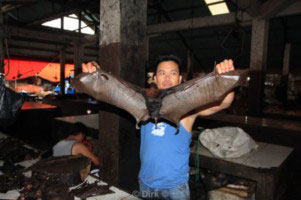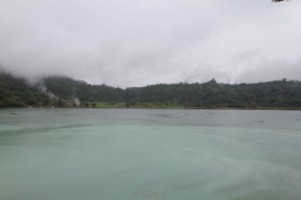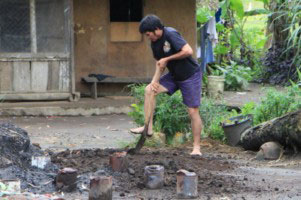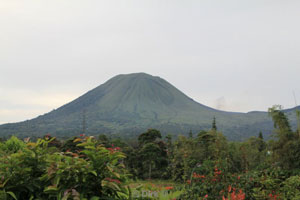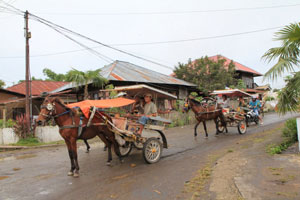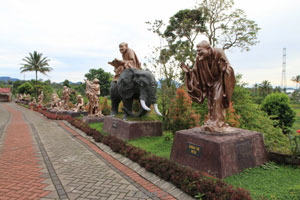 Tuesday 8 November 2011

Muck diving in Lembeh Strait including the following dive sites: Scat retreat, Idunas point and Air Prang.

It has rained throughout the night, but fortunately it stops around 6.00am. The clouds remain more or less, all morning, but the soon tries is best to make a way through the fog. The divers are going back to Lembeh Strait. The rainfall has reduced the visibility under water in Lembeh Strait, but the diving was worth it, again. The non-divers stayed at the hotel.

Back in the hotel a bit to 13.00pm, we start up the laptop at the edge of the swimming pool. We patiently wait until we get 'connected' to eventually connect to a Belgian radio station (the connection of the hotel runs through a veeeeeeeeeery slow line). That way we can listen to the morning news from 6.00am, but after a few minutes the connection unfortunately leaves us hanging and we can't be bothered to go through the whole process again. Around 16.00pm we decide to go for a walk in the nearby village. As we haven't stepped outside once, since our arrival. Here as well, we are stared at by everyone, but welcomed with a broad smile. Only one small child is extremely afraid of us and begins to cry. Do we really look that monstrous? We walk through the village for about an hour and between the houses we see a lot of fruit trees. Bananas, its fruit, mango, pineapple, cocoa beans,... everything grows here in the wild and you can literally eat here from the trees! During our walk, we get attacked by a huge number of mosquitoes and flies. At twilight, we therefore decide to go back to the hotel for a refreshing splash in the swimming pool. At 18.00pm a sudden, violent and cold wind arises, this comes with a fairly frightening effect, as all (palm) trees begin to move their branches heavily. Around 8.00pm, the divers of Lembeh Strait return at the hotel and we go for dinner a little later than usual.


Wednesday 9 November 2011

Today is another rest day for everyone. We sleep in, take plenty of time to enjoy the extensive breakfast buffet and the rest of the day we lounge and laze at the swimming pool. At dusk we insert an ultimate 'action plan' and go for a stroll on the pier of the hotel, to witness one of its oh so stunning sunsets.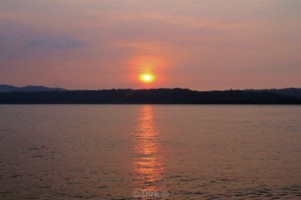 Thursday 10 November 2011

Diving in the National Park Bunaken including the following dive sites: Molas ship wreck and Rons point.

Today is the last dive day. Everyone comes along on the boat to Bunaken because it's very hot and there's no bit of wind. At 13.30pm we return to the hotel and all dive material gets put back in order to rinse and dry. The rest of the day settle again next to the swimming pool and let the time slip through our fingers. For dinner we are pleasantly surprised, as they have 'Gentse waterzooi' and carrots 'the Belgian way' on the menu. We enjoy the delicious textures and taste and conclude this festive meal with a super yummy rum cake.


Friday 11 November 2011

Our last day is just as the previous days, including a long stretched breakfast and laze around the pool, to optimally charge our the last bit of solar energy. At 15.30pm I have booked myself in the beauty salon for a, yet again, extended treatment and 'after sun massage'. Subsequently, I am as smooth as an eel due to the aloë vera balm they lubricated on my body. We enjoy our last drink at the pool bar and go for out last buffet, which is, as you probably guess already; BBQ-night.


Saturday 12 November 2011

We get up at 8am and after breakfast everyone quickly goes to their room to get together the last remnants of baggage. At 10.30am our luggage is picked up and subsequently the group gathers at the reception. Here we're offered a drink and the hotel staff surprises us with a real farewell concert. It's a heart-warming scene and despite the heat we dance along on the rhythm. At 11.00am it's time to say goodbye and the hotel shuttle takes us to the airport of Manado. In the departures hall, we buy the last souvenirs and at 13.50pm take off towards Singapore. After a flight of slightly more than 3 hours we arrive and take the train to another terminal. We can then issue our hand luggage and take the 'Maxi Taxi' (50 Sing dollar) which will take us in a half hour drive to Marina Bay. Here we have until 21.00pm to go shopping and take photos of the impressive buildings in Singapore. Shopping in Singapore is unfortunately a little bit disappointing, as the prices are pretty much the same as in Belgium and our MasterCard apparently didn't work here either. Fortunately, we do have some last dollars on us, to pay for our bill! As agreed, the taxi picks us back up to drop us off at the airport of Singapore, where at 23.50pm our flight to Amsterdam departures. Since we have booked a night flight, which takes more than 12 hours, it's pretty quiet on the place. This gives everyone the chance try to get some proper sleep. At 6.10am local time we land in Amsterdam. We pick up our luggage, take the transfer bus to Novotel, drink a coffee to wake up a little and get into the car to return to Belgium. We ultimately get home around 10.00am and start unpacking. Tired, but certainly satisfied.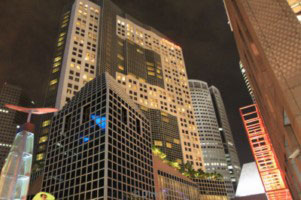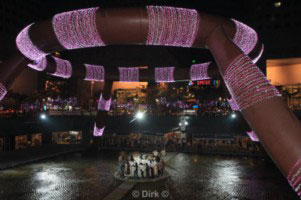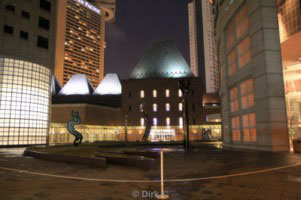 Scuba diving in Sulawesi, Manado, Indonesia, Bunaken, Bangka and Lembeh Strait

There is no continental shelf in the northern part of Sulawesi and the reefs therefore drop straight down to 1840m! The flush fitting between the islands are about 200m, between Manado Tua and Monte Hage you find the deepest spot 1360m!

North Sulawesi is a very rich area of diversifications of life. Some say that there are more than 58 different types of coral and more than 2000 species of fish present. This is because it's where the Pacific Ocean, Sulawesi Sea and the Indian Ocean meet. This results in plenty of food, to keep the many different types of marina life fed. The tides, currents and the diversity of the underwater landscape also contributes to the wealth of life in this underwater paradise. The very well known dive sites are the national park Bunaken, Bangka and Lembeh Strait. It's an unbelievable stunning place to go diving.

The water temperature varies on most of the dive sites in the national park Bunaken, Bangka and Lembeh Strait from 26°C to 29°C. The surface water and the reefs temperatures even rise above 30°C. In Lembeh Strait the water is about 2°C colder. A 3mm wetsuit is normally sufficient to comfortably go diving. Except for maintaining the body temperature, a wetsuit also protects you from jellyfish and other domestic animals, and against combustion of the sun during the diving. Manado is very close to the equator and the sun burns firmly. When you have no hair or just wear it really short, wear a bandana when you go diving. The 10 minutes you must wait in the water before and after the dive, gives the sun enough time to burn your scalp or upper body!

The visibility in the water in Manado, national park Bunaken and Bangka are at most dives between 20 and 35m.

The visibility of the diving in Lembeh Strait, however, varies greatly from 5 to 25m. The visibility in Lembeh Strait is less on the famous muck dive sites and better on the northern open dive sites. At the most popular dive sites in Lembeh Strait the view is usually between 12 and 15m.

The Dive Tanks made available are long 12l bottles. This means that you must take more lead (ratio more weight in bottle in relation to the weight of the displaced water). Not every dive school or dive centre offers NITROX. Please make sure that if you, for whatever reason absolutely want to dive with NITROX, check this with the concerned school or centre. You can go for up to 3 dives a day; which is a lot. If you dive with compressed air, certainly dive very conservative (although you can dive deeper than with NITROX, this is certainly not recommended). Make sure to take a day off, after 5 days and take enough rest.

The dive time is determined on 1 hour of diving or 50 bar on your manometer, which I think, is a great agreement.

Most dives are boat dives and they take very good care of all your equipment and materials. You're on holiday and therefore, all you need to do is relax! Let yourself get pampered for once.



Map dive sites Sulawesi Manado, Bunaken, Bangka, Lembeh Strait in Indonesia:
Scuba dive site Manado:

Several dive sites close to Manado are good for muck diving. During your dives you come across; rare critters as ghost flute fishing, Mandarin fish, Rhino Pias scorpionfish and existence of a small wreck in the north of Manado.



Scuba diving in the Bunaken National Park:

The famous National Park Bunaken comprises five islands and is known for its drop off diving. Most of the islands of Bunaken have very steep walls. The walls are decorated with beautiful coral walls with small caves and on related documents. Diving in the National Park of Bunaken provides a great chance to spot the pelagic species such as tuna, mackerel, sharks and turtles. If you are lucky, you can even come acorss schools of dolphins or osier during the trip of the bay of Manado to Bunaken. To widen your chaches, the best period to go here is between August and September. Therefore, always be on he lookout, before and after the diving.



Scuba diving in Bangka:

This group of islands and the adjacent coast are known for the strong currents and where the currents clash, can feel like a washing machine. Diving in Bangka is on a volcanic rock and can be a little different to what you're used to. There's a chance on spotting pelagic fish and large schools of fish. In the reef of Bangka you will see different beautiful colours of orange, yellow and red soft corals. There are also many rare nudibranchs to find.



Scuba diving in Lembeh Strait:

Lembeh Strait is the place in the world for muck diving to see the so-called critters. Critters are creatures that are only made available to encounter in a few places and can show a very strange appearance. In Lembeh Strait there are critters present in multiple diversifications, this is different to a lot of other places. Lembeh Strait has very many dive sites (approximately 50). A few of the rare and bizarre critters you may find in Lembeh strait are the striated frogfish, Scorpio fish (Ambonvis, Rhinopia, stone fish, etc.) Drago nets, harlequin ghsot, rare Nudibranchs, Harlequin Shrimps, Robust ghost pipefish, cardinal fish, mimic octopus, wunderpus photogenicus, Pegasus, multiple Seahorse species and much more. There are also a few wrecks and some beautiful coral gardens. These sites are ideal for the macro photographer. For who is after an ecounter with the greater life in Lembeh Strait, you must search at the northern end of Batu Kapal. There you have to look out for the current, which comes with large pelagic fish such as tuna, mackerel and attracts sharks.



Underneath you find a particle of what we encountered during our diving in Sulawesi Indonesia on the dive sites of Manado, Bunaken, Bangka and Lembeh Strait:
Fish:

Panda Anemonefish, Pink Anemonefish, Common Anemonefish, Orangefin Anemonefish, Blackfooted Anemonefish, Yellowtail Damselfish, Sergeantfish, Pygmy Seahorse, Ringbanded Pipefish, Thorny Seahorse, Robust Ghostpipefish, Ornate Ghostpipefish, Long Nosed Hawkfish, Dwarf Hawkfish, Freckled Hawkfish, Arc-Eyed Hawkfish, Red Fire Goby, Randall's Shrimp Goby, Blenny's, Leopard flounder, Stone fish, Bearded Scorpionfish, Leaf Scorpionfish, Lionfish, Frogfish, Painted Anglerfish, Royal Anglerfish, Emperor Anglerfish, Ring Anglerfish, Lizardfish, fine spottted Porcupinefish, Mask Porcupinefish, Black tail Sandperch, Blackspotted Moray, White-mounth Moray, Gaint Moray, White-eyed Moray, Leopard Moray, Blackfin Snake eel, Ribbon Eel, Squirrelfishes, Banggai Cardinalfish,Jawfish, Beaked Butterflyfish, Longnose Butterflyfish, Black Backed Butterflyfish, Vagabond Butterflyfish, Threadfin Butterflyfish, Ornate Butterflyfish, Longfin Butterflyfish, Pyramid Butterflyfish, Panda Butterflyfish, Dat en Dash Butterflyfish, Madagascar Butterflyfish, Red-tailed Butterflyfish, Raccoon Butterflyfish, Ordonate Butterflyfish, Humphead Butterflyfish, Emperor Angelfish, Regal Angelfish, Blue Girdled Angelfish, Bi-color Angelfish, Blue-ringed Angelfish, Checkerboard Wrasse, White Spotted Wrasse, Yellowtail Coris, Napoleon Wrasse, Parrotfish, Surgeonfish, Titan Triggerfish, Red-tooth Triggerfish, Picasso Triggerfish, Clown Triggerfish, Pink Tail Triggerfish, Blackspotted Pufferfish, Bristly Pufferfish, Star Pufferfish, Guineafowl Pufferfish, Black Saddled Toby, Bennet's Toby, Young Yellow Boxfish, Spotted Boxfish, Mimic Filefish, Brittle-tailed Filefish, Yellowfin Goatfish, Doublebar Goatfish, Mimic Goatfish, Coral Grouper, Peacock Grouper, Yellow fairy Basslet, Diagonal Banded Sweetlips, Yellow Ribbon Sweetlips, Blue Striped Snapper, Trumpetfish, Moorish Idol, White tip reef shark, Black tip reef shark, Blue Spotted Ray, Spotted Eagleray, Bluefin Trevally, Big Eye Trevally, Black Trevally, Teira Batfish, Barracudas, Figured dragonet, Peacock Sole, Dugeon, Rinopias Scorpionfish (weed scorpionfish), Caledonian Devilfish, Pale Chin Moray, tuna, mackerel, etc...



Sponges:

Tube Sponge, Dish Sponge, Pencil Sponge, Barrel Sponge, Yellow Sponge, Ole Horn Sponge, etc...



Coral:

Common Fire Coral, Branching Fire Coral, Staghorn Coral, Orange Cup Coral, Massive Knobby Coral, Bubble Coral, Brain Coral, Ridge Coral, Lettuce Hard Coral, Leafy Hard Coral, Stubby Hard Coral, Plate Coral, Leather Coral, Spiral Wire Coral, Green Tubastrea Tree, etc...



Soft corals:

Soft Coral, Orange Soft Coral, Pink Soft Coral, Mushroom Soft Coral, waving hand Soft Coral, Leather Soft Coral, Sea Pin, delicate gaint Gorgonian Sea Whip, Fan, Cherry Blosson Soft Coral, etc...



Nudibranch:

Tryoni Nudibranch, Tenue Nudibranch, Flabellina Nudibranch, Acne Nudibranch, Pipeki Nudibranch, Lineolata Nudibranch, Electra Nudibranch, Nembrotha Nudibranch, etc...



Worms and molluscs:

Poly-clad Flat Worm, Christmas Tree Worm, Tube Worm, Wormy Synaptlla Lamperti, Tiger Crowrir, Giant Clam, Flame Fire Shell, Thorny Oyster, etc...



Octopus and cuttlefish:

Coconut Octopus, Mimic Octopus, Cuttlefish, Flamboyant Cuttlefish, Squid, Long Arm Octopus, Blue Ringed Octopus, etc...



Crab and shrimps:

Porcelain Crab, Soft Coral Crab, Triloba Porcelain Crab, Barrel Sponge Crab, Painted spiny lobster, Blue Boxer Shrimps, Bubble Coral Shrimp, Mantis Shrimp, Cleaner Shrimp, etc...



Sea stars and sea urchins:

Blue Linkia Knobby Sea Star, Crown or Thorns, while Pincushion reflects, Monoli Sea Star Sea Star, feather stars, Lon Spined Sea Urchin Sea Urchin, Slate Pdencil, Mathaei Urchin, etc...



Sea Cucumber and ascidians:

Ruby Sea Cucumber, Pasta Sea Cucumber, Dendrochinotes Sea Cucumber, tunicates, Colonial Tunicates Compound, Tunicates Solitary, etc...



Anemones and cnidarian:

Sea Anemons, clarkii caught clown fish Anemone, Tube Anemone, Magnificent Anemone, Stinging Hydrozoan, etc...



Mammals and reptiles:

Dolphins, sea cow - Dugong, turtles, coral reef snakes, etc...


In other words, we saw way too much to list during our dives. Take a look at the pictures of our dives, to get a picture of the underwater life in Sulawesi, Manado, National Park Bunaken, Bangka and Lembeh Strait.




Pictures - Photos Scuba diving, diving and landscape of Sulawesi Indonesia: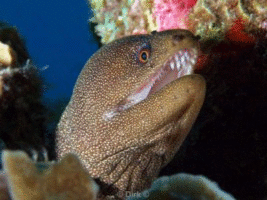 Pictures - Photos diving Sulawesi Indonesia, Manado, Bunaken National Park, Bangka and Lembeh Strait:



Pictures Part 1 - 2 - 3 - 4 - 5 - 6 - 7 - 8 - 9 - 10 - 11 - 12 are already available

30/10/2011 part 01 Pictures - photos diving in Sulawesi Bunaken National Park, dive sites: Lekuan 3, Muka Kampung and Qabet point
30/10/2011 part 02 Pictures - photos diving in Sulawesi Bunaken National Park, dive sites: Lekuan 3, Muka Kampung and Qabet point
31/10/2011 part 03 Pictures - photos diving in Sulawesi Bunaken National Park, dive sites: Barracuda point, Tangjun Kopi and Lekuan 1
31/10/2011 part 04 Pictures - photos diving in Sulawesi Bunaken National Park, dive sites: Barracuda point, Tangjun Kopi and Lekuan 1
01/11/2011 part 05 Pictures - photos diving in Sulawesi Bangka, dive sites: Shaung point, Machiko point and Mokotamba
01/11/2011 part 06 Pictures - photos diving in Sulawesi Bangka, dive sites: Shaung point, Machiko point and Mokotamba
02/11/2011 part 07 Pictures - photos diving in Lembeh Strait, dive sites: Nudy retreat, Idunas point and Jahir
02/11/2011 part 08 Pictures - photos diving in Lembeh Strait, dive sites: Nudy retreat, Idunas point and Jahir
03/11/2011 part 09 Pictures - photos diving in Sulawesi Bunaken National Park, dive sites: Raymonds point, Alung Banua and Celah Celah
03/11/2011 part 10 Pictures - photos diving in Sulawesi Bunaken National Park, dive sites: Raymonds point, Alung Banua and Celah Celah
06/11/2011 part 11 Pictures - photos diving in Sulawesi Bunaken National Park, dive sites: Siladen, Selatan and Sachiko point
06/11/2011 part 12 Pictures - photos diving in Sulawesi Bunaken National Park, dive sites: Siladen, Selatan and Sachiko point
08/11/2011 part 13 Pictures - photos diving in Lembeh Strait, dive sites: Nudy retreat, Idunas point and Air Prang
08/11/2011 part 14 Pictures - photos diving in Lembeh Strait, dive sites: Nudy retreat, Idunas point and Air Prang
10/11/2011 part 15 Pictures - photos diving in Sulawesi manado and Bunaken National Park, dive sites: Molas ship wreck and Rons point
10/11/2011 part 16 Pictures - photos diving in Sulawesi manado and Bunaken National Park, dive sites: Molas ship wreck and Rons point



Pictures - Photos landscape Sulawesi Manado Indonesia:

Pictures - Photos already available

Pictures divers on a boat or in the water
Pictures hotel Santika and divecenter Thalassa
Pictures landscape of Sulawesi
Pictures landscape of Sulawesi - Lembeh Strait
Pictures landscape and tour in Sulawesi
Pictures market in Sulawesi (not for sensitive viewers!)
Pictures Singapore




Like and share this travel story with photos of Sulawesi Indonesia with your friends on Facebook
Useful info and contact addresses of Sulawesi Manado in Indonesia:
Hyperbaric center in Sulawesi Manado in Indonesia:

Address hospital met Hyperbaric room in Manado:
Rumah Sakit Umum (general Hospital)
Prof. Dr. Kandou
Jl. Malalayang Satu Barat, Manado
Tel: +62 431 853191
Tel: 0812-4302-970
Dr. Glen Hawkins tel: +61-4077-00701
Dr. Sosiawati tel: 0812-467-2923
Dr Hanry Tak Asenseran tel: 0813-4000-0840
According to many websites, this is the best hospital in Manado het Rumah Sak it Umum in Jl. Yos Sudarso.



Read our other dive travel stories and see our many pictures - photos about scuba diving and of the landscape from ADC Scuba diving Antwerp - Deurne

For more information on learning to scuba dive, visit ADC learn Scuba Diving Antwerp - Deurne.

Any questions about learning to scuba dive? You can always contact ADC Scuba Diving Antwerpen - Deurne for advice.

Go back to the homepage from ADC Scuba Diving learning to dive in Antwerpen - Deurne